https://www.webpushnotifications.com/
Safari Push Notifications Explained
In the next few minutes, we will take you through simple steps that you need to take to successfully integrate safari push notifications to your web applications. Before we dive into the details, let's make sure we all understand how safari push notifications work. In order to demonstrate the concept, we have created a demo on this page with four buttons - each for an example usecase. If you are not already viewing this page on a Safari browser, we recommend you switch over to Safari browser and try clicking on one of these Safari Push demo buttons. Once you do that, you will receive a web push notifications on your Mac OS. Note that iOS currently does not support Safari Push Notifications.
Step 1: Select a Safari Push Notification API
In order to integrate Safari Push to your website, you will need to select one of the available APIs. Note that not all APIs support Safari - and not all cost the same. We have therefore created a comprehensive comparison table to help you select one that best fits your need in terms of features, pricing and ease of integration. Please take a moment to review our ranking factors before we move on to Step 2.
Product
Price Per Month
(50K Subscribers)
-
Overall
Rank
?
Our final rank based on a multitude of factors such as features, pricing, ease-of-use, enterprise scalability, customer reviews, customer support, etc.
Load
Shield
?
We expect vendors to pre-load images associated with the message to their CDNs before the push notification is sent out to shield original website (or their CDN) from image load requests. This is particularly important for push messages sent out using APIs or WordPress Plugins. If this is not supported then the original website will either face higher load (slow load times) immediately after a push message is sent out - OR higher CDN costs .
Browser
Footprint
?
We expect vendors to keep all JavaScript (JS) files that are loaded and run on end-user browsers, such as SDK and Service Worker files, to be lightweight and minimalistic. Bloated and excessive JS code creates unnecessary overhead and compromised user experience. Excessive JS also indicates unnecessary or questionable tasks (such as user tracking, etc.) being performed that do not need to be performed in order to enable web push. We use the combined size of all JS files in KB, when minimized, as a proxy for this indicator. Lower size is better.
Data Privacy
?
We expect vendors to not sell customer data to any third party company including Advertising companies for any reason. We also expect vendors to not sell any aggregation of data including meta data. This comparison is based on a simple question: Is this vendor actively selling or has, in the past, sold any customer data to advertisers? If the answer is yes, we mark it as a red dot. If the answer is no, we mark it as a green dot.
Data Storage
Transparency
(Server-side)
?
We expect vendors to fully disclose all user/visitor data that is stored on their servers. This information should be clearly listed on publicly accessible privacy policy page.
Data Storage
Transparency
(Client-side)
?
We expect vendors to fully disclose all data that is stored in users browsers in form of cookies, local storage, sessions storage & Web Database. This information should be clearly listed on publicly accessible privacy policy page.
HTTP
Support
?
Web Push Notifications are not supported by non-HTTPS sites. Push companies offer custom subdomains for non-HTTPS sites so that site visitors are able to see a popup window to the custom subdomain at the time of opt-in. Keep in mind that when push message is received by a subscriber of non-HTTPS site, it shows as sent by the custom subdomain.
User
Segmentation
?
Being able to create audience groups that can be later used to send targeted push campaigns. Example: Send a promotional discount message to visitors from a specific country, who have previously visited a specific page.
Safari Mac
Support
?
For a non-HTTPS site, we expect the push notification company to offer a shared P12 certificate and, as a result, a seamless Safari integration. For HTTPS sites, we expect companies to let site owners upload their custom P12 certificate because shared certificate should not be used by HTTPS site owners. Keep in mind that if your site is HTTPS, you will need to make an Apple Developer account (which costs $99/year paid to Apple directly) to create a custom P12 certificate. The entire process is simple and should not take more than 1 hour from start to finish.
Large Image
Support
Unlimited
Subdomains
Unlimited
Team Members
Unlimited
Notifications
Unlimited
Websites
Conversion
Tracking
?
Being able to set an event, such as a page visit, as a conversion goal before a push notification message is sent out.
Event Based
Auto Push
?
Being able to set automation rules where a pre-composed web push notification is sent out anytime someone triggers a pre-defined event such as a specific page load. Example: send out a warm welcome message any time someone signs up to your website.
Advanced
User Analytics
Custom
User Attributes
?
Being able to add custom subscriber information from your internal CRM systems (such as User ID, Name, E-mail, Phone, etc.) to each subscriber so push notifications can be sent based on Custom Attributes.
Emoji
Support
Custom
Branding
Custom
Optin Prompt
Webpushr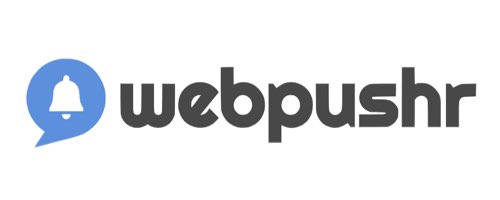 FREE
Rank: 1
🟢
6KB 🟢
🟢
🟢
🟢
🟢
🟢
🟢
🟢
🟢
🟢
🟢
🟢
🔴
🔴
🟠
🟢
🟢
🟢
🟢
Pushnami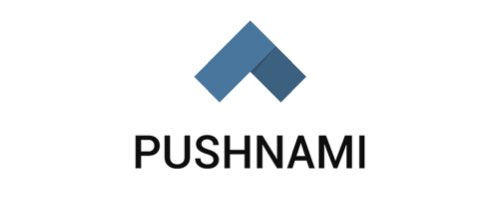 $1000
Rank: 2
🔴
49KB 🟠
🟢
🔴
🔴
🟢
🔴
🟢
🟢
🟢
🟢
🟢
🟢
🔴
🟢
🟠
🟠
🟢
🟢
🟢
iZooto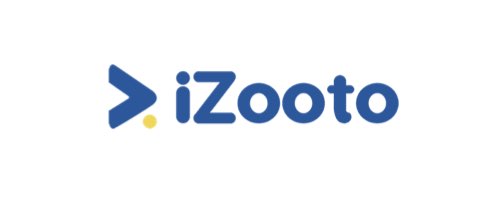 $400
Rank: 3
🔴
44KB 🟠
🟢
🔴
🔴
🟢
🔴
🟢
🟢
🟢
🟢
🟢
🟢
🔴
🟢
🟠
🟢
🟢
🟢
🟢
OneSignal
$149
Rank: 4
🔴
96KB ⚠️🔴
⚠️🔴
🟠
🔴
🟢
🟠
🟢
🟢
🟢
🟢
🟢
🟢
🔴
🔴
🟠
🟢
🟢
🟢
🟢
VWO (PushCrew)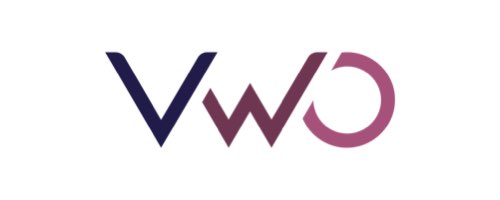 $252
Rank: 4
🔴
56KB 🟠
🟢
🔴
🔴
🟢
🟢
🟢
🟢
🟢
🟢
🟢
🟢
🔴
🟢
🟠
🟢
🟢
🟢
🟢
PushAlert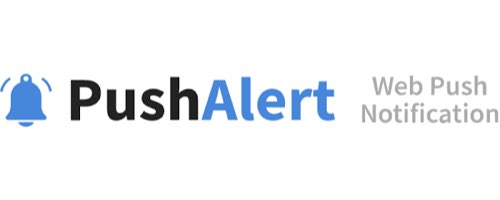 $249
Rank: 5
🔴
37KB 🟠
🟠
🟠
🔴
🟢
🔴
🟢
🔴
🔴
🔴
🟢
🟢
🔴
🟢
🟠
🔴
🟢
🟢
🟢
Aimtell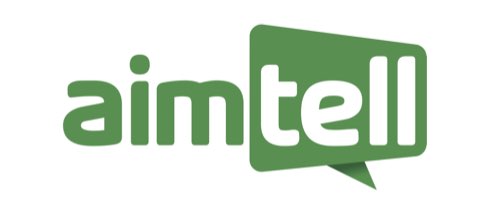 $99
Rank: 5
🔴
33KB 🟠
🟢
🔴
🔴
🔴
🟢
🔴
🔴
🟢
🟢
🟢
🟢
🟢
🟢
🟠
🟢
🟢
🟢
🟢
🟢 = Capability is Available; 🟠 = Capability is Partially Available; 🔴 = Capability is Not Available; ⚠️ Alert. Perform due deligence before selection
Step 2: Safari Push Notification for HTTP sites
If your site in a non-secured HTTP site, Step 2 will be the last step for you. With companies such as Webpushr, all you will need to do to is upload a 256px by 256px icon in PNG format. This icon will be displayed as part of your Safari push notification.
The reason it is a straightforward integration for HTTP sites is because the best Web Push API providers (such as Webpushr) will create a secure (HTTPS) and custom subdomain on your behalf. This is necessary because Apple does not support Safari push on non-HTTPS sites at all. Once a secure HTTPS subdomain has been created, it is then used to collect subscriber information (through a pop window at the time of user optin) as well as to send notifications to your visitors. Pretty straight forward, eh?
Step 3: Create a Safari Push P12 Certificate. (HTTPS Sites Only)
If your site is HTTPS, you WILL need a P12 certificate that is issued directly by Apple to complete your Safari push. This is needed even if you are using one of the APIs mentioned above. Getting a P12 certificate is simple and we estimate it to be a ~30 minute effort which includes testing. Follow the following steps to get a P12 certificate:
Step 4: Create an Apple Developer Account
In order to get a P12 from Apple for your site, you first need to create an Apple Developer Account. We recommend you sign up as a sole proprietor/single person business as that would decrease your fee to just $99 per year. You will be paying this annual enrollment fee to Apple directly.
Step 5: Create a P12 certificate to enable Safari Push Notifications
Now that you have your own Apple Developer account and it has been verified (sometimes it can take upto a week for Apple to verify your account before you can start creating certificates). Follow the steps shown below to create your own P12 certificate and start sending web push notification.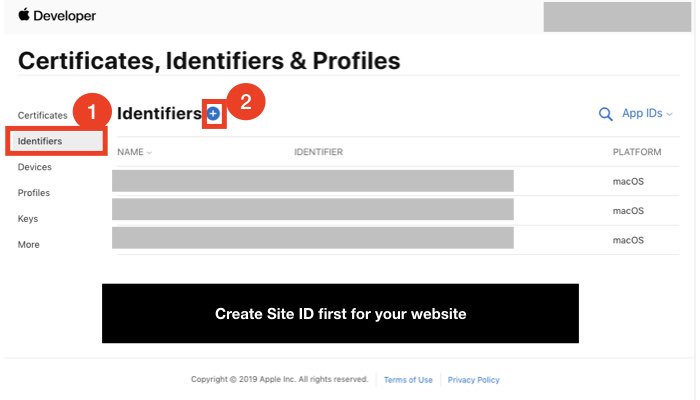 Make sure you select "Website Push ID" from the options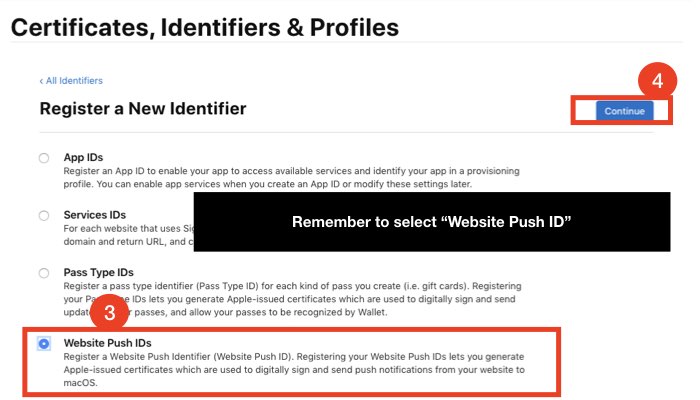 Enter reverse domain style name for your site ID. Example, if your domain is example.com, the reverse-domain style ID will be web.com.example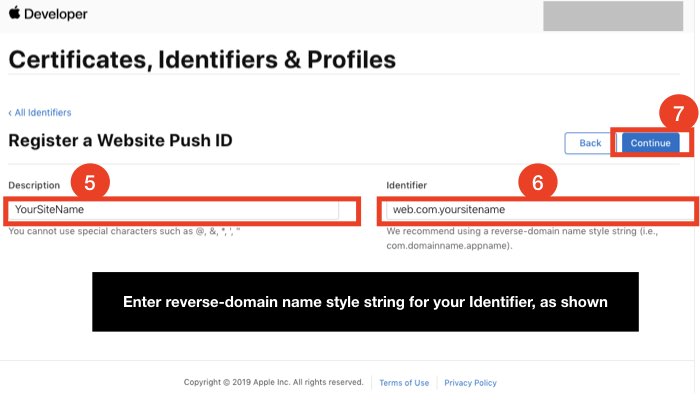 Once you have create site ID, move on to create a certificate now.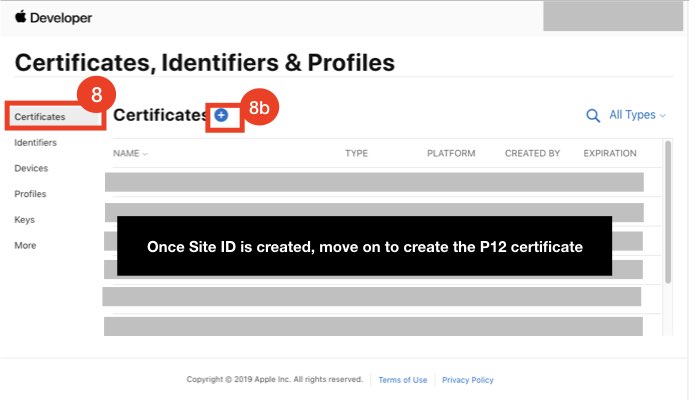 Make sure to select "Website Push ID Certificate" from the options.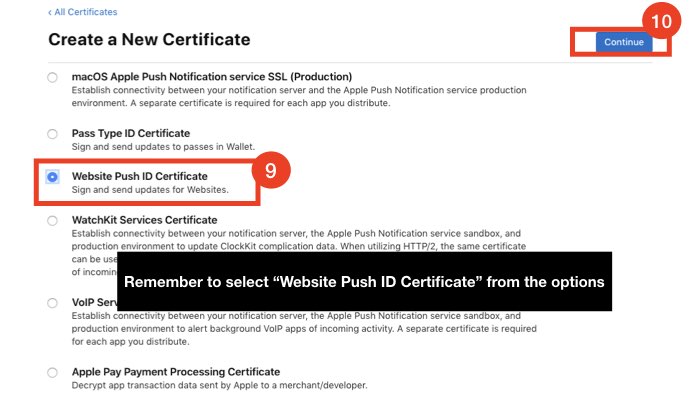 Select the Site ID from the drop down - the one you just created for your website.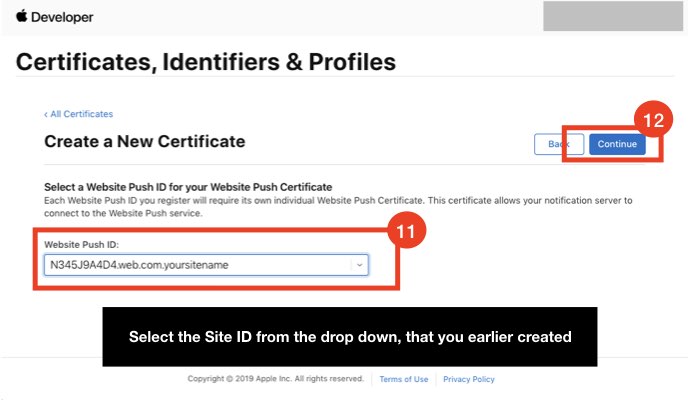 Time to now create a Certificate Signing Request (CSR). You now need to use KeyChain App on your Mac.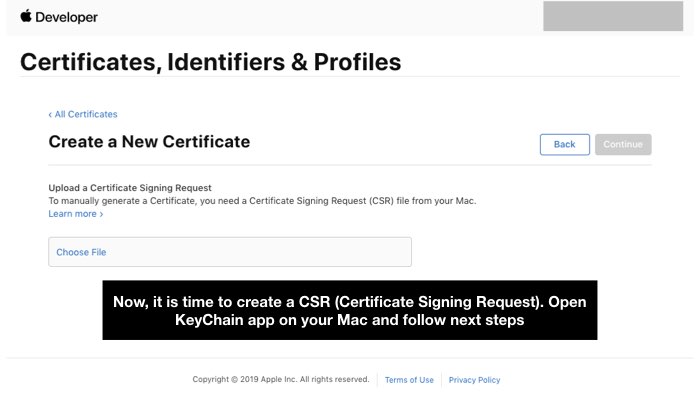 Open KeyChain App on your Mac and click on "Request a Certificate From a Certificate Authority" as shown below.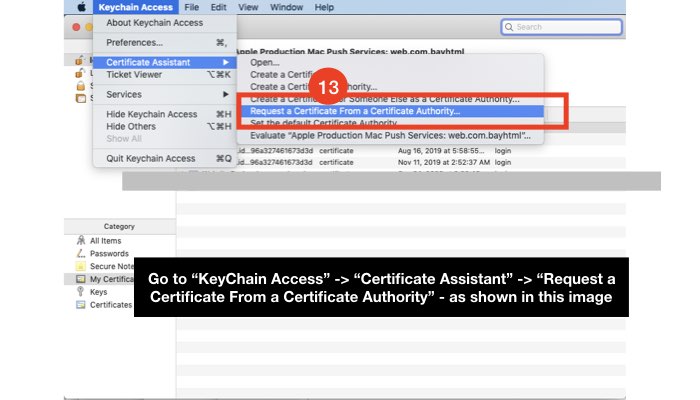 Make sure you enter the same e-mail address as you used to sign up to Apple Developer's Account. Save the CSR to your Mac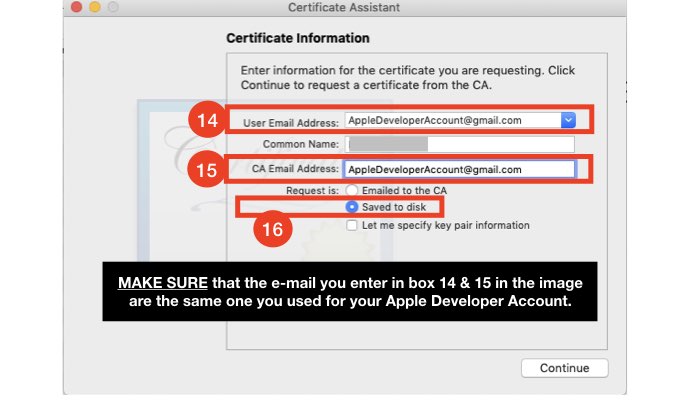 Upload the CSR to your Apple Developers' Account and download the certificate file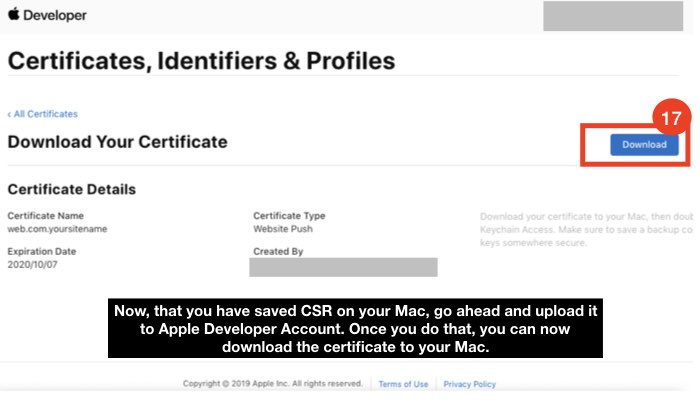 Doubleclick the downloaded certificate to see it in KeyChain App. Right click to export it to your Mac as shown below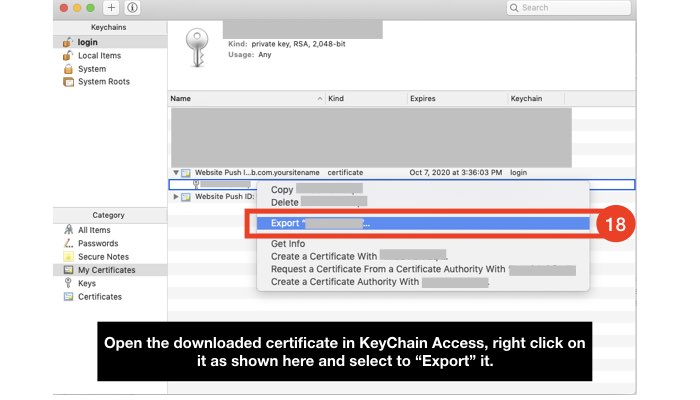 Make sure you are downloading it as .p12 format as shown below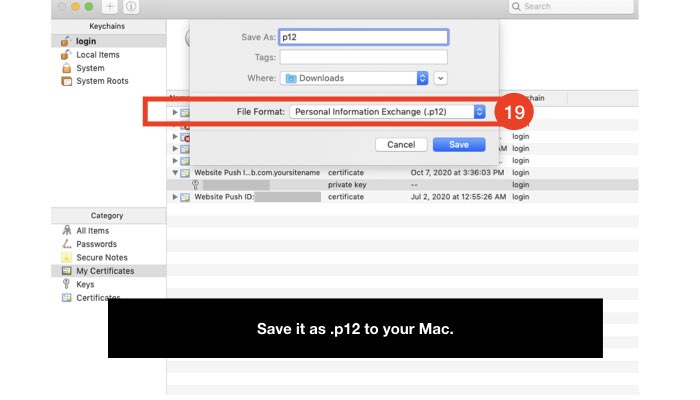 Leave the password field blank. You now have your own .p12 certificate file.